This article is part of a series that the Revelstoke Review is doing this market season. The Review will highlight the vendors that make the Farmers' Market special.
Standing behind his work both physically and metaphorically, Chris Schill is the soul woodworker responsible for Schill's Woodworking stand at the Local Food Initiative's Farmers' Market (LFI).
In a shop, located just eight minutes from town, Schill makes everything from tables to benches to cutting boards and chess boards — if it's wood, the odds are good that Schill can do it. He subscribes to an approach to woodworking that the modern world is quietly, and increasingly, rejecting. Standing at his stall with his work on display, Schill talked about how he got into woodworking, what makes it special, and why he has continued to do it.
"I started very young, building houses with my dad when I was seven," said Schill.
From seven to 27, Schill built houses before travelling across the Atlantic to England for a year to study fine furniture making. He said it was the 'best experience' because he got to learn the trade 'in a place where woodworking is cherished'.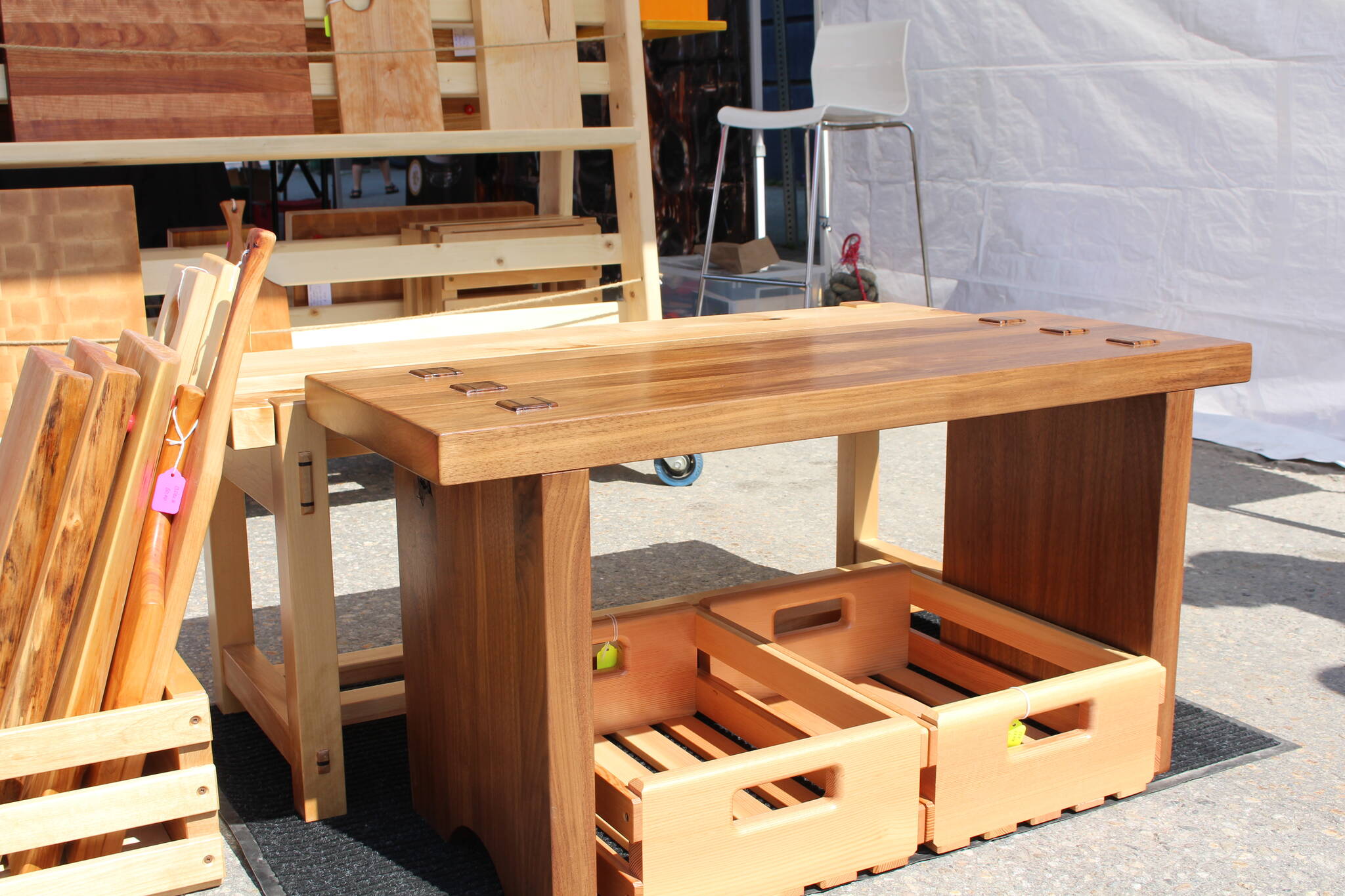 His teacher was one of the top five makers in England and Schill was one of just four students that was allowed in. The woodworking they did demanded expertise, patience, and precision. They worked without nails, screws, or glue — to make the pieces, the wood had to be perfectly joined.
Schill moved to Revelstoke from Calgary where he had wood worked for years. Once he got to Revelstoke, he established his shop and six years later, he started selling his products at the market. Schill said he enjoys the market for the social aspect, which helps to make him feel good about his work.
"That makes me feel good. It makes me feel good about what I did with my life choice," said Schill.
Market-goers often stop to talk about woodwork with him, showing him their projects. His favourite occurrence is when two people take a step way back from his stand, eyeing the benches that he built. When it happens, he said he can usually tell that one of them is a woodworker of some degree, and the couple will stare and talk about the benches before moving on, giving Schill the thumbs up as they pass.
His top-seller at the market is one of the least complicated items he makes, cutting boards. Still, Schill is more than happy for the business. The LFI market is the only market he's ever sold at, but Schill said he's considering expanding into more markets.
His goal is to start a furniture store to take the next step beyond the shop he currently works out of. The shop doesn't have storage space to display his work, which is part of what makes his time at the market more effective.
Schill believes the ideology of woodworking is changing and woodworkers such as himself are increasingly a dying breed. He used tools as an example of the change, comparing a sander to a hand plane.
"When a plane cuts, it cuts the fibre of the wood. When a sander cuts, it tears the fibre of the wood," said Schill.
For Schill, respecting wood is key — a value that he said not all craftspeople shares.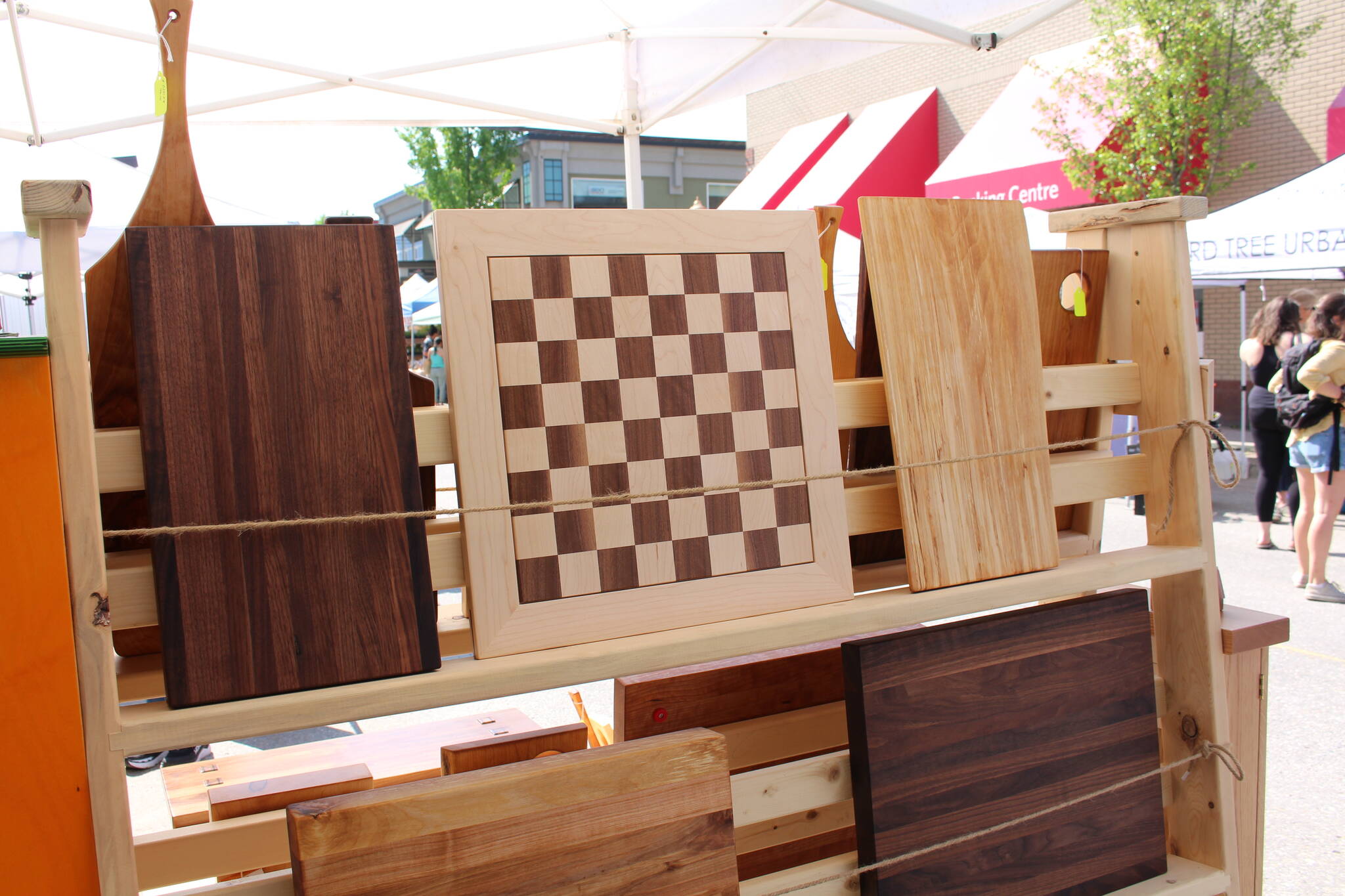 "Nature did it all, we're just finalizing it for humans," he said.
While woodworkers with a background similar to Schill's may be fading away, he takes the time to impart his knowledge to those eager to learn. He runs occasional woodworking classes, which he finds 'satisfying'.
"The satisfaction of seeing students have a death grip on the cutting board because you're taking yours home that day. And they're like 'this is mine, I made it'," said Schill.
Woodworking isn't just an occupation for Schill, it's his happy place.
"If I'm in the shop with a piece of black walnut, I'm a happy camper."
Schill's stand can be found at the market bi-weekly. It can be spotted by looking for a stand made entirely of wood.
---
@ZacharyDelaney
zach.delaney@revelstokereview.com
Like us on Facebook and follow us on Twitter and subscribe to our daily and subscribe to our daily newsletter.