More than 500 physicians and nurses across the country have issued their own public health advisory on the fracking and liquefied natural gas industry and how it's connected to wildfires and other environmental emergencies.
A small group of physicians and nurses gathered outside Premier David Eby's constituency office in Vancouver Thursday (Aug. 24) calling on the province to put a moratorium on expanding LNG projects. The Canadian Association of Physicians for the Environment and the Canadian Association of Nurses for the Environment held a joint news conference.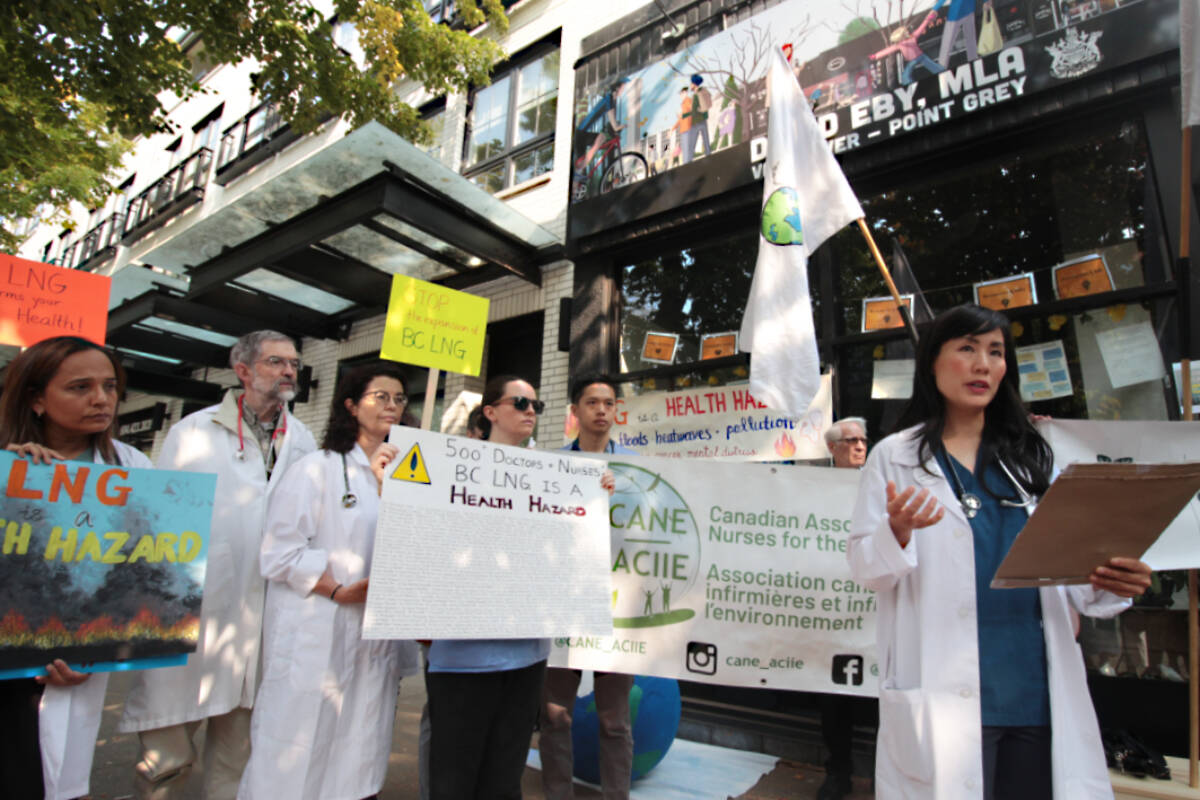 They called on Eby to halt new hydraulic fracturing development and to complete an independent health impact assessment, evaluating the health effects of fracking and LNG, including their impact on health harms related to climate change.
Vancouver family physician Dr. Melissa Lem said a public health advisory is called when something poses an immediate threat to human health, whether it's a heat wave or a toxic substance.
"This summer doctors and nurses in every province and territory have been dealing with the fallout of the climate emergency, whether it's asthma exacerbations and heart attacks for smoke or PTSD, anxiety and depression after wildfire evacuation. And it's the fossil fuel industry, the LNG and fracking industries of B.C., that are pouring fuel on these fires," explained Lem, the president for the Canadian Association of Physicians for the Environment.
She said B.C. continues to approve new LNG projects, such as one in Kitimat that is still under construction. There are also projects and facilities in Delta and Squamish.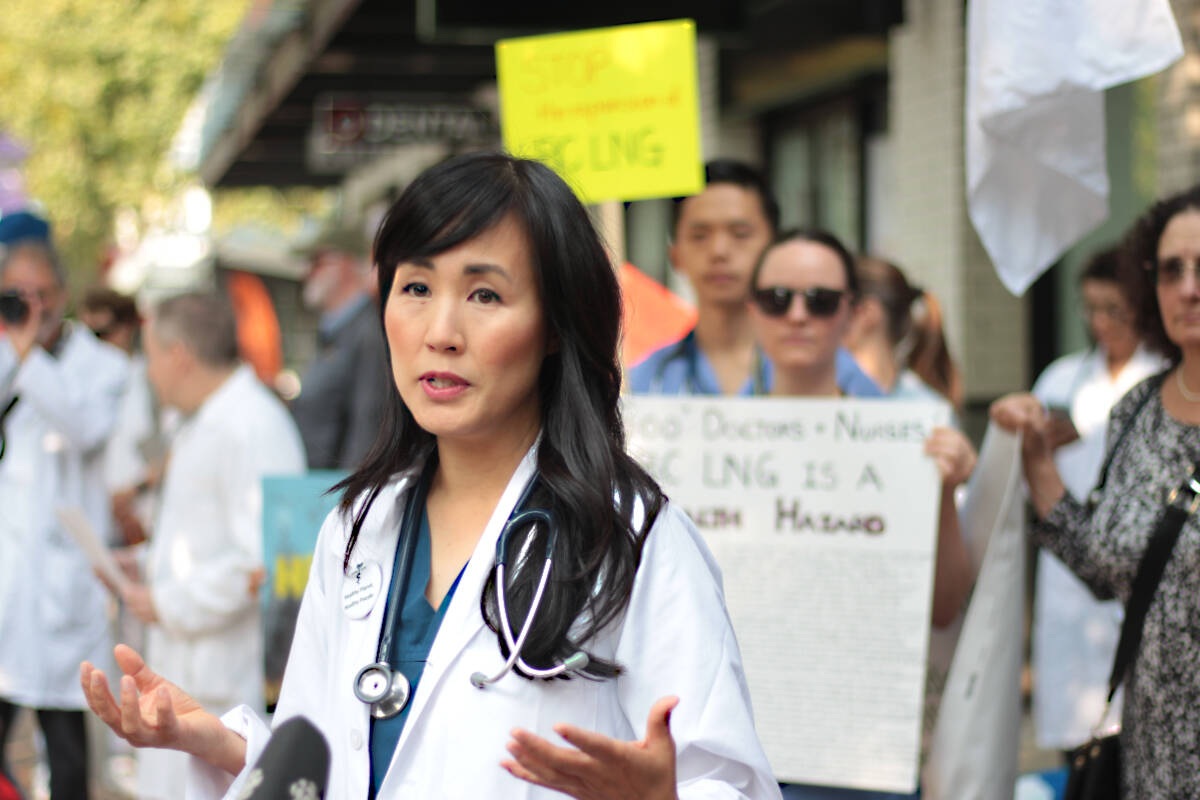 LNG is natural gas cooled to -162 C which condenses it into a liquid form. The province's website notes LNG projects have been taking place in B.C. since the 1950s, and the northeast region is where most natural gas resources can be found. LNG is composed mostly of methane with small amounts of other hydrocarbons and nitrogen.
The Canadian government's website states methane is a "potent greenhouse gas with at least 25 times the warming potential of carbon dioxide (CO2) over a 100-year period."
Methane emissions, Lem said, are responsible for more than 25 per cent of the global heating people are seeing today.
"And they're driving the deadly fires heat and flooding of the climate emergency."
Lem said recent studies showed carbon emissions of the top 88 global fossil fuel producers were responsible for almost 40 per cent of the forests burned in southwestern Canada and the western US since the 1980s.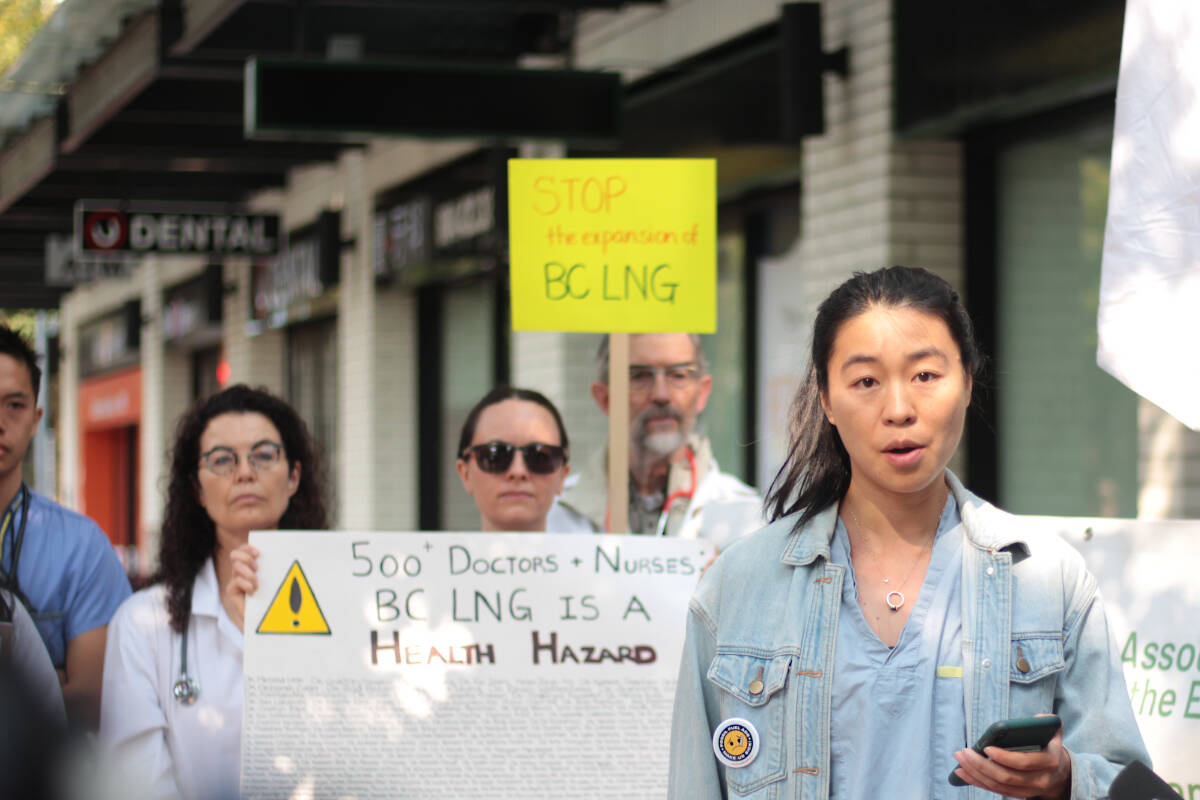 Vancouver-based Dr. Kelly Lau said her training didn't prepare her for the climate crises. She pointed to July being recorded as the hottest month on Earth.
"The health risks of wildfires heat waves floods and droughts are predicted to rapidly accelerate in the next five years. If we continue down this path. We have other options and we deserve a healthier and better future."
Black Press Media has reached out to Eby's office for comment.
---
@laurenpcollins1
lauren.collins@blackpress.ca
Like us on Facebook and follow us on Twitter.