Multiple people are dead after a crane collapsed in downtown Kelowna on Monday morning, July 12, according to the RCMP.
The crane fell around 11 a.m. Monday, as crews were working to dismantle it. The fall caused significant damage to surrounding buildings, including a seniors' home, prompting RCMP to evacuate much of the area. The City of Kelowna called a local state of emergency shortly after the incident.
CEO Jon Friesen of the Mission Group, the developer responsible for the site, spoke to media following what he called a tragic morning. He said none of the people who died were Mission Group employees but rather those of the sub-trade contractor taking down the crane.
"We want (workers) to go home at the end of the day healthy and safe," he said. "That did not happen today. Any words I could come up with pale in the shadow of so great a loss for these families.
"Our hearts go out to the families involved."
Mission Group has made grief counselling available to workers who were on-site at the time of the incident.
B.C. Labour Minister Harry Bains offered his condolences to the friends, families and coworkers of the victims in a Monday evening statement.
"Every worker has the right to return home safely at the end of the day, and I feel awful for the loved ones and colleagues impacted by this tragedy," he said.
"All workers have the right to a safe and healthy workplace – even one injury or death is too many. This is a heartbreaking reminder that we must strive to ensure the safety of all workers to prevent incidents like this from happening.
The RCMP said it can't yet confirm the exact death toll of the incident as they are still working to notify the families of the workers who died.
I dodged death today. I usually park here Monday mornings and arrive the exact time this fell. My wife called and asked me to come back and pick up one of my kids so I turned around #kelowna #kelownacranecollapse pic.twitter.com/UMzbWBxnAj

— ronald cannon (@ronaldcannon) July 12, 2021
Streets in downtown Kelowna were chaotic throughout the day, as both onlookers and people evacuated from nearby buildings watched as emergency crews responded.
Several ambulances responded to the scene, alongside firefighters and the RCMP. A technical rescue team was also called in from West Kelowna.
Mounties closed several roads in the area, including Bernard Avenue, Bertram Street and St. Paul Street. The power was also out for almost 2,500 FortisBC customers but it has since been restored.
Colleen Hansen's son is one of the workers who was taking the crane down this morning. She says her son is fine, but he told her other workers were hurt. pic.twitter.com/XjsX1tpdfW

— Michael Rodriguez (@MichaelRdrguez) July 12, 2021
A woman, who did not wish to be named, said she came to work this morning and went to park her vehicle on St. Paul Street when she was stopped by construction workers who told her they were dismantling a crane today.
"They told me my parking spot is the last one on the end, so they told me I might not want to park here and to park at my own risk," she explained.
She said she was with her young daughter and the two of them were headed into her office when she heard a loud bang and a co-worker yell 'get out of the building.'
"The three of us ran out the front door and everyone else ran behind us," she said, adding she'd heard multiple people were trapped inside the building
Interior Health issued a "Code Orange" alert at approximately 11:30 a.m. to prepare Kelowna General Hospital for a potential mass casualty event. The alert was stood down at around 1 p.m. and BC Emergency Health Services has so far only confirmed three people were hospitalized: one in critical condition, one in serious condition and one with minor injuries.
We anxiously await updates on this heart-wrenching accident and we hope our incredible first responders are able to get help to the workers involved.https://t.co/50uLv5MJb8

— John Horgan (@jjhorgan) July 12, 2021
Several nearby buildings remain under an evacuation order as of 6:30 p.m. and the City of Kelowna has declared a local state of emergency. The evacuation order affects the following addresses within a 250-foot radius of the crane:
547 – 612 Bernard Avenue
1450 – 1488 Bertram Street
1441 – 1471 St. Paul Street
Emergency support services are available for the evacuees at the Salvation Army at 1480 Sutherland Avenue.
Families of those who are injured or missing are asked to go to the McIntosh Room in the Parkinson Recreation Centre at 1700 Parkinson Way.
Friesen said he's unsure how this will affect the construction of the Brooklyn building, which was scheduled to be completed by November 2022.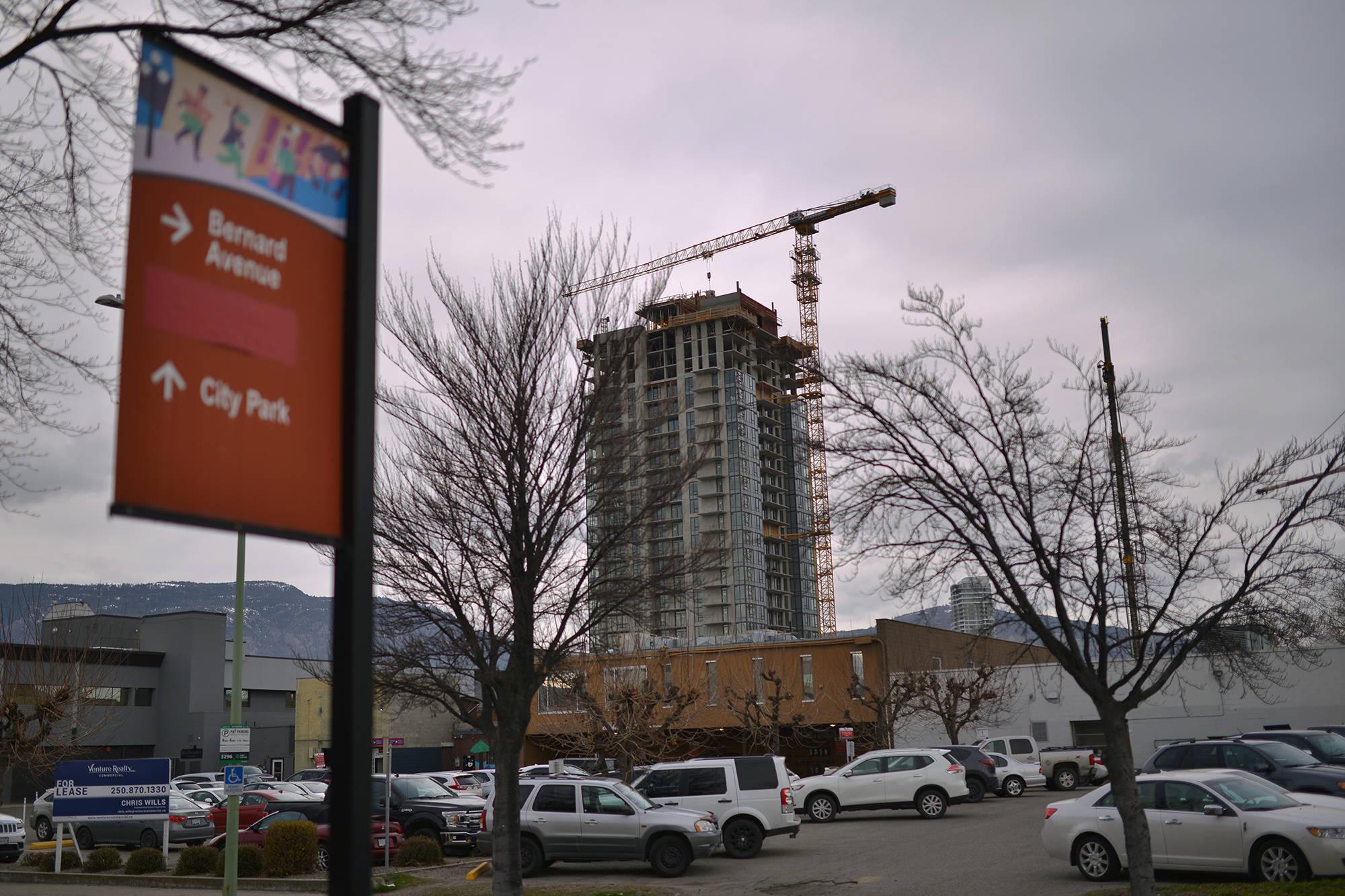 The BC Coroners Service and WorkSafeBC are conducting their own investigations into the incident.
More information is expected from the RCMP in the coming days.
---
@paulatr12
paula.tran@kelownacapnews.com
Like us on Facebook and follow us on Twitter and subscribe to our daily newsletter.